Its high effectiveness has earned its popularity. In our internet you can buy Viagra online. We only sell proven, certified medicine, so you don't have to doubt its effectiveness or safety viagra uk Our internet store sells medicines produced in Indian pharmaceutical factories under licensed agreement. Engineering students have designs on the future
By ADRIANA JANOVICH
Yakima Herald-Republic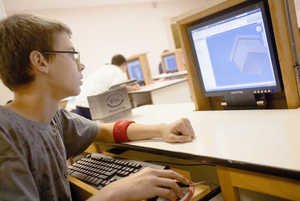 ANDY SAWYER/Yakima Herald-Republic
East Valley High School sophomore Danny Jackson designs a case for the wooden puzzle he designed in the school's engineering class Tuesday, Nov. 24, 2009. This is the first year the class has been offered.
TOPPENISH, Wash. -- Saul Moran wants to be an aerospace engineer.
And that goal is the reason he's here, in Room 606, for second period.
The Toppenish High School sophomore signed up for Introduction to Engineering Design to help get him where he wants to go in life. And it has quickly become his favorite class.
"I want to take it junior and senior years, too," the 15-year-old says. "It's good practice."
So far, the 23 students in his class -- a foundation course in the Pathway to Engineering curriculum for Project Lead the Way -- have designed coffee mugs, wooden puzzle cubes and toy trains.
Now, they're working on solving a real-life problem: Creating a mechanical or electrical device to give nurses a boost when performing CPR on patients.
During class last week, they were reviewing video from a field trip to Yakima Valley Memorial Hospital, where they talked with nurses and learned how hospital beds operate.
"We're calling it 'The ICU Challenge,'" says Enrique Romero, who teaches one of the three Project Lead the Way engineering classes at Toppenish High.
Toppenish and East Valley high schools are the only two high schools currently offering Project Lead the Way curriculum in Central Washington, according to Loueta Johnson, director of the University of Washington GEAR UP chapter.
Eventually, she would like to see all 14 school districts in her program -- a dozen of which are in Central Washington -- offer the engineering courses.
Officials at a few of them are already talking about it. And a couple more -- Grandview and Mt. Adams, according to Johnson -- are planning to implement classes in the fall.
"I think the most exciting thing is to visit the classrooms and see the enthusiasm of the students who are working on the projects," Johnson says. "You can just feel the excitement in the air.
"It's not very ordinary that students as a whole start planning for the next year in November," she says.
But that's what's happening in Project Lead the Way classes at Toppenish and East Valley: "They want to know what they are going to be learning in the coming year, and that's exciting."
*****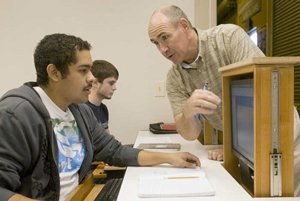 ANDY SAWYER/Yakima Herald-Republic
East Valley High School teacher Barry Reifel, right, helps senior Raul Rodriguez, left, with an engineering project during class Tuesday, Nov. 24, 2009. Students must plan the project, sketch it out then use computers to create three-dimensional models.
At both high schools, Project Lead the Way is funded mostly through federal grants from GEAR UP, formally known as Gaining Early Awareness and Education for Undergraduate Programs.
GEAR UP aims to prepare students for college through campus visits, tutoring, mentoring and enrichment programs. Last spring, representatives from GEAR UP encouraged school officials to consider the curriculum.
Associated start-up costs -- for things like teacher training, computers, software and other supplies -- totaled just over $55,300 in Toppenish. In East Valley, where only one teacher received Project Lead the Way training, the cost was lower, just over $43,600. The goal is to strengthen students' performance in science, technology, engineering and math, or STEM.
"All the schools are struggling right now with STEM," says Conan Viernes, a contract analyst with UW GEAR UP and a former electrical engineer at NASA's Jet Propulsion Laboratory. He calls Project Lead The Way "hands-down the best STEM curriculum I've ever seen.
"It's actually designed by engineers," he says. "It's very much real-world-style curriculum. Students are learning skills that will prepare them directly for the engineering workforce."
Project Lead the Way started in 1997 as a school-improvement initiative to address the shortage of engineers in the United States. Its slogan is "Forging the Innovation Generation."
Project Lead the Way curriculum was initially introduced to 12 high schools in New York state. Since then, the nonprofit has trained more than 500,000 students and 12,500 teachers and counselors at more than 2,200 high schools and 1,200 middle schools around the country.
While the curriculum is now in schools in all 50 states, it's still relatively new to Eastern Washington. In addition to Toppenish and East Valley, two school districts in the Spokane area offer the curriculum in Eastern Washington. About two dozen school districts on the west side of the state are part of the Project Lead the Way network.
*****
The introductory engineering course, new to both Toppenish and East Valley this school year, aims to give students hands-on experience. It's part of an activities-, project- and problem-based learning approach.
And that's one of the things both teachers and students like about it. One advantage for students in the classes, Romero says, is: "They are actually using software professionals use in the industry."
Arnulfo Gonzalez, a math teacher who instructs one of the engineering classes at Toppenish, says he's particularly impressed with the curriculum's applied geometry.
"It gives students an opportunity to be able to practice skills that engineers use in industry," he says. "It's very engaging curriculum."
At some point, students might be able to earn college credit for Project Lead the Way courses. That's a goal, according to Johnson.
Meantime, Toppenish High students earn elective credit for the semester-long class. East Valley students earn elective as well as Career and Technical Education credit. Only one Project Lead the Way class is being offered so far at East Valley, and it's yearlong.
Officials at both schools plan to build upon the foundational course, adding more advanced options in coming years. At Toppenish, they're also interested in offering Project Lead the Way curriculum at the middle-school level, according to assistant superintendent John Cerna.
"Our kids are just eating it up," Cerna says, adding, "They'll have a foot in the door" when it comes to taking similar courses in college.
They're already so popular at Toppenish that Cerna and principal Trevor Greene are planning to add two more sections -- for a total of five -- next semester.
*****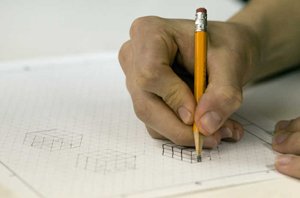 ANDY SAWYER/Yakima Herald-Republic East Valley High School sophomore Oscar Garcia sketches his project during an engineering class Tuesday, Nov. 24, 2009.
The Toppenish classes have something the East Valley class doesn't -- at least not yet: girls. So far, all 20 students in the East Valley class are boys. At Toppenish, 22 of the 71 students enrolled in the three classes -- about 30 percent -- are girls.
"It's really fun," says 16-year-old junior Gaby Rodriguez, who's also in Room 606 for second period and wants to someday become a software engineer.
"It's a lot of new technology that we're introduced to," she says. "We're using the same software as colleges and professional engineers. It's really cool for us."
The three Toppenish teachers -- one math and two science -- who are teaching the course underwent a two-week intensive training last summer at Seattle University. The East Valley teacher completed his training last summer at the Oregon Institute of Technology in Klamath Falls.
"There's a learning curve for me as well as the students," says Barry Reifel, who also teaches woodshop and weight training at East Valley. "But I'm pretty happy with where we are.
"One of the biggest benefits I see in this is the direct application of mathematics, science and technology all in one. In a class like this, it all comes together, and (students) see the real-world application. That can be real motivating for kids."
Last month, the boys in Reifel's sixth-period engineering class were working on wooden puzzle cubes, the same project Toppenish students completed this fall.
The six steps for the design process were listed on the white board in the front of the room: Define the problem, brainstorm, research and generate ideas, identify criteria and constraints, explore possibilities and select and approach.
"You have to work within the constraints of the problem," Reifel told his students.
Sixteen-year-old Danny Jackson was the first one to find a solution. Someday, the sophomore wants to make cars -- "as in design them."
"I'm more of a hands-on sort of person," he says. "I like to design things. It's always interested me. I figured taking this class would be the best way to learn how."